Alright ladies- here is the big doozy I have been dying to share with you!! Along with all the other awesome giveaways that Marmee from Marmee's Bread Market is partnering with me to bring you, I will be hosting a raffle for a Bosch Universal Pluss Mixer from October 19- November 16, 2010!!!
And this isn't just any old raffle where you fork out your money for a ticket and just hope you get the grand prize! NOPE!
EVERYONE
gets something! Marmee will actually be offering
3 different raffle download packages
, chocked full of goodies!! Our top tier raffle package will be $7.99 and is worth 8 entries in the raffle! The second tier raffle package will be $5.79 and worth 6 entries, and the final tier will be $3.59 and worth 4 entries! These packages will be so packed full of awesome recipes and ideas for your kitchen and family you just won't believe it! It is a total win/win!
So, why am I announcing the raffle so early? Well, I wanted to get these raffle buttons and banners out to all of you because if you have them on your blog they will help get you extra entries into the
other
giveaways I will be running with Marmee between now and then! So snag them now and start spreading the word! And remember, tomorrow starts the first giveaway!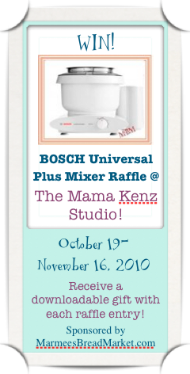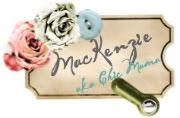 Be sure to visit my sponsor- Marmee's Bread Market- for recipes and everything else you need to easily make fresh baked goods for your family!