This past weekend I was finally able to track down all my needed ingredients to begin making our bread from scratch in my
fantabulous
new
BOSCH Universal Plus Mixer
sent to me from
Marmee's Bread Market
! Okay- seriously, I am not just exaggerating here! I mean, to be honest, I
did
already kinda know that I was going to love it, but now that I have actually
used
it, I am forever ruined for bread and mixers! I think I probably officially qualify as a mixer/bread snob now. I can simply never go back!
So, you are probably thinking, "She's lost her mind! What's all the fuss?" Oh, I am
so
glad you asked because I am
dying
to tell you! I never thought that making bread from scratch at home would be practical or honestly feasible. After all, I have two young children who require copious amounts of my attention and we are hoping to have more. Many days it is hard enough to get dinner on the table, let alone bake a fresh loaf of bread! Then I learned about the
Bosch Universal Plus Mixer
. It is the most heavy-duty home machine available on the market (boasting an 800 watt motor!) and can mix & knead up to
6 loaves
of bread at a time. My friends who make all their own bread in a Bosch kept telling me that all you have to do is throw your ingredients in and the machine does the rest! After learning this, I thought to myself, "Ok- that sounds doable. It probably isn't
quite
as easy as they are making it out to be, but it
does
sound easier than doing it any other way, and I
do
want to be feeding my family fresh bread made with home-milled flour. So, maybe that would be my best option."
Well, imagine my thrill when I tried out my new
Bosch
and found out that they
weren't
exaggerating- it really is
that easy
! This past Sunday I made 10 loaves of bread with very minimal effort!! SERIOUSLY! I wanted to try out both of the kinds of grain that I had gotten- Red and Golden- so I made a full batch of Marmie's Basic Whole Wheat Bread with each kind (5 loaves of each). The instructions that she lays out in both her
Bread Basket Cookbook
and her
Make it Special: Homemade with Love DVD
were so simple and easy to follow- she even gives you the exact order to place everything in your mixing bowl for a practically no-fail method! I also really appreciate that she tells you why you are putting certain ingredients in, what they do and where to find them.
This is literally all I did:
-Put 5 pounds of wheat through my
NurtiMill
(I had measured it on my kitchen scale first)

-Placed all my main ingredients and some of the flour in the mixing bowl
(This was how much flour I had left over- about a cup. I sent it home with my mom!)
-Mixed for about 30 seconds
-Waited 10 minutes for it to get bubbly (notice- I'm not doing any work right here!)
-Turned on the machine and added the rest of my flour (well, there was a little left over- about a cup- because the amount really varies based on weather and such. Marmie explains all this very clearly in both her
book
and
DVD
)
-Let the machine do it's thing and knead my dough for me (most other machines CANNOT handle this task- it completely wears out the motor. Oh, and again notice, I'm not doing any work right here either!)
-Formed the dough into loaves
-Let two loaves rise so I could bake them and wrapped the other three in freezer paper and zip-top bags to make later in the week
That's it! In a matter of
one hour
I had two loaves of bread in the oven, three more in my freezer and I really only did any actual work for about
maybe
15 minutes
of that hour! A half an hour after that we were enjoying fresh, warm, whole wheat bread that my boys LOVE! Rhythm is
constantly
asking for another slice and I am sure that if Lion Cub could, he would be too!
My Beautiful Bread!
I am amazed by how much confidence this machine has given me as a homemaker. I feel like I can legitimately take on the task of making my own baked goods without being completely intimidated by it or feeling like I just don't have the time. This is something completely feasible. I
really can
do it! I am so excited to try out the other recipes Marmie has sent me, and trust me, there are a lot of them! Even more, though, I love that even when it looks like I have a busy day coming up, I know that I can very easily make my own pizza dough from scratch or some whole wheat rolls for dinner (which I did, by the way... all in one evening... cause now I have a
Bosch
and I roll like that... and they were both
amazing
!) even in the midst of the craziness that is often my life.
Thank you Marmie for giving me the chance to incorporate the use of this wonderful machine into the way I care for my family, and thank you Bosch for creating such a wonderful product for homemakers like myself!
So ladies, what are you waiting for?! Go get your
Bosch right here
from
Marmee's Bread Market
! Not ready yet? Well don't worry, by the time I'm finished sharing with you all the baked goods I will be feverishly making over the next few months (ok- probably forever!) you will be so inspired and so envious by the constant smell of fresh bread in my home that you will certainly be adding one to your Christmas lists! And hey- keep watching because next week I will be starting a giveaway for a great download package that will really get you excited
and
announcing an upcoming raffle for one of these little babies! You
won't
want to miss it!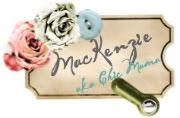 Be sure to visit my sponsor- Marmee's Bread Market- for recipes and everything else you need to easily make fresh baked goods for your family!